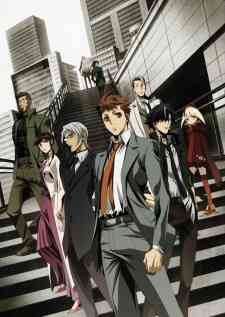 Keishichou Tokumubu Tokushu Kyouakuhan Taisakushitsu Dainanaka: Tokunana (Dub)
Keishichou Tokumubu Tokushu Kyouakuhan Taisakushitsu Dainanaka: Tokunana (Dub)
A long time ago dragons ruled a world of elves, dwarves, vampires, homunculi, and humans. In the present dragons have all but disappeared, so the ones left chose to live together, and their appearance came to resemble that of humans. The year 2x19 in Tokyo is mostly a time of peace, but a group called the Nine cause chaos in their quest to obtain the dragons' powers and change the world. The police form a unit consisting of various experts to fight against Nine; the Special Crime Investigation Unit - Special 7 (Tokunana). These individuals have abilities that surpass the average human, to the extent that there are rumors of rebellion against them. A rookie, Seiji Nanatsuki, enters the unit. While teased by other members with colorful personalities, he sets out to solve cases involving Nine with his bright mind and straightforward thinking. Will he be able to find justice in the most grueling circumstances?
Episode your are watching right now anime online of Keishichou Tokumubu Tokushu Kyouakuhan Taisakushitsu Dainanaka: Tokunana (Dub) Ep
005
.
Next episode to watch anime online of Keishichou Tokumubu Tokushu Kyouakuhan Taisakushitsu Dainanaka: Tokunana (Dub) is
006
.
Previous episode of Anime you are watching online of Show Keishichou Tokumubu Tokushu Kyouakuhan Taisakushitsu Dainanaka: Tokunana (Dub) is
004
.
Comment
Anime
Episode

005
Rules
Flagging

- If you see anyone violating the rules, please use the report button ("mark as inappropriate"). Disliking an opinion is not a valid reason for flagging.

Spoilers

- Do not post them! It doesn't matter if someone asked for them, or not - it will still result in a warning and/or a ban. Comments containing intentional and unprovoked spoilers (posts like "X is the Beast Titan" "X is Y's brother") that are clearly not theories or guesses will result in an instant ban.

- Pointless text/text that can be identifiable as spoliers such as "Everyone dies" or "Han shot first!" is not allowed. We are not Meme Central nor do we want to be.

- If you want to discuss future episodes, we have a channel dedicated to spoilers on our Discord.

Stay On Topic!

- One way or another, keep comments related to the anime at hand or about 123animehub in general.

Flaming / Swearing

- While swearing is allowed (unless really excessive), do not direct it at other users. In any way, do not start or participate in any flame wars. Flag comments violating this rule and we will deal with them accordingly.

Self-Promoting / Advertising

- While it is okay to mention other anime/manga websites, do not deliberately advertise them.

- These types of Youtube videos will not be tolerated:

Non anime related

"Anime Rant" videos will be removed since we have no way of confirm whether it's for self-promoting or no.

- Also, comments are not an advertising board!

Comments containing just links with no text will usually be removed, unless they're an answer to another comment.

Any links leading to viruses/phishing sites/etc are forbidden.

NSFW

- NSFW images are restricted for NSFW anime. If the anime you are on is not NSFW, then NSFW is not allowed. NSFW in this case, refers to ecchi. No hentai is allowed in any case.

Profile Pictures

- Comments made by users with NSFW profile pictures may be removed, depending on the contents of the picture. Slight ecchi/fanservice is allowed but hentai is not.

Posting Pictures

- Limit comments to a maximum of 3 images or less.

- Memes are allowed to the extent of:

They are on-topic and relevant(Anime related).
They do not spoil anything in the current or future episodes.
They do not contain questionable content (ex: Hentai)

Most Importantly: Use Common Sense!

- If you think you'll get in trouble for what you're about to do, don't do it.

Moderation

- A moderator's verdict is final and arguing with them will only cause further punishment.